Fishing S / A brings you a list of the most fantastic places for you to do your next fishing trip.
Do you dream about a day fishing in Brazil? It is a fact that fishing is part of the life of Brazilians, especially with the growth of sport fishing, and knowing the best fishing destinations is essential. But how do you know, in such a large country, what are the most fantastic destinations for fishing? Pesccaria S / A brings in this publication our opinion on this topic.
We know that each fisherman has his or her own opinion about fishing tourism but we decided to give our opinion using our own opinion, some statistics and popularity of each site to make our list. But you know that this fishing blog is a democratic site, and we will be very happy to hear the opinion of each reader, because fishing is that, is to join some fishermen for fun.
Pescaria S / A came exactly for this, to further entertain our fisherman friends, with attractive content and interactivity. Enjoy our post and if you know of a really cool fishing destination and it's not on our list, don't be shy to share with us in the comments or on our Facebook page.
10 most frequented fishing destinations in Brazil
Rio Teles Pires – Mato Grosso / Pará
Rio Trombetas – Pará
Rio Negro em Barcelos – Amazonas
Rio Amazonas – Amazonas
Cáceres – Pantanal
Rio Xingu – Mato Grosso
Rio Araguaia e Rio Tocantins – Tocantins
Litoral Baiano – Pesca em Alto Mar
Rio Uruguai – Rio Grande do Sul / Santa Catarina
Rio Grande – São Paulo / Minas Gerais
1. Rio Teles Pires – Mato Grosso / Pará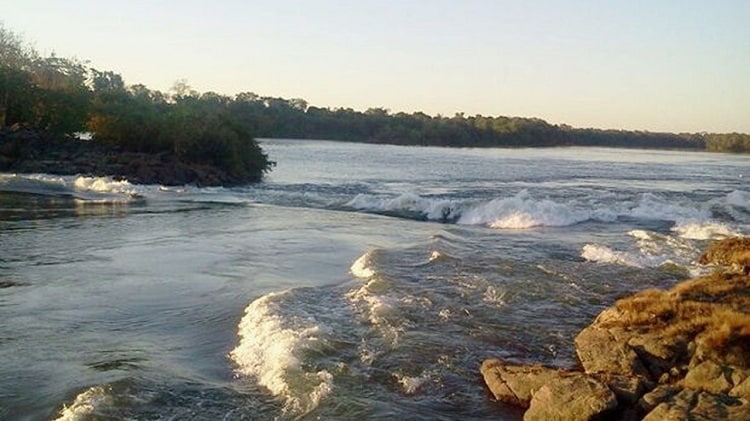 The Teles Pires River (or São Manoel River) is a watercourse that bathes the states of Mato Grosso and Pará (its natural divider) in Brazil. Its source is located in the municipality of Primavera do Leste (although other sources are also considered), with a length of 1457 km until the encounter with the Juruena River, forming the Tapajós River, in Barra de São Manoel. It crosses the Cerrado and Amazon Rainforest biomes.
In its waters there are several species of fish: jaús, guinea fowl, matrinxãs, piraíbas and pirararas, being a river very popular for sport fishing. It was also located 7 Falls Falls (flooded by the construction of the Teles Pires HPP), near the city of Alta Floresta, which was a sacred place for the Mundukurus Indians.
2. Rio Trombetas – Pará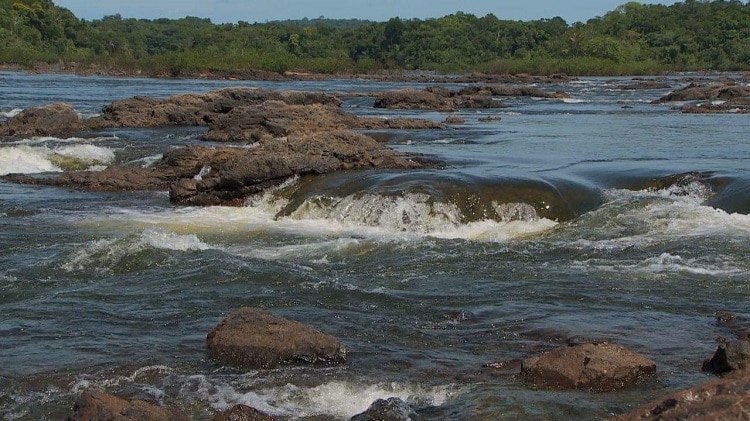 The Trombetas River is a singular river. All who fish in it say it is a wonderful river. The fishing in this river is not outstanding for the quantity of fish caught, but for its quality! Trombetas is one of the rivers with the largest diversity of fish in Brazil.
In it it is possible to fish Jaú, Piraiba, Pirarara, Jundiá Onça, Surubins, Palmito, Tucunaré (thyrorus), Jacundá, Bicuda, Trairão, Cachorra, Corvina, Pacu and Black Piranha. A single certainty in fishing in this river, excitement will never lack.
3. Rio Negro em Barcelos – Amazonas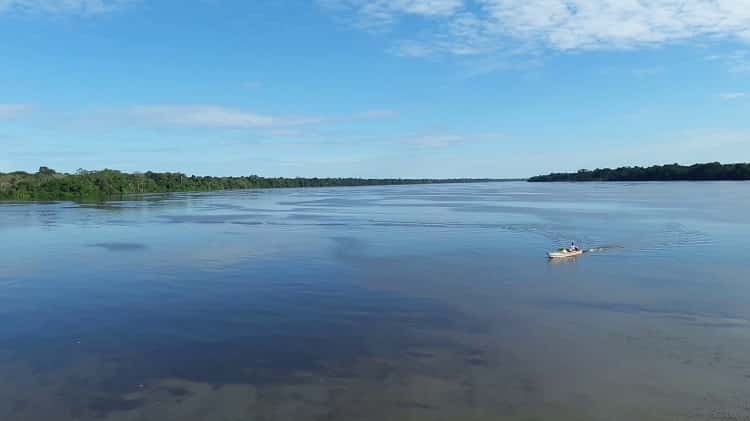 The amazing Rio Negro, the subject of endless reports, is one of the most desired destinations for fishermen who want to know the Amazon. This fascination also moves fishermen who already know the region, some attribute the black color of the water with the contrast of a rough Tucunaré Açu attacking your bait as an unforgettable experience, others surprised by the exuberance of the region, everything is mega !!!
Its 500 tributaries and sub-tributaries, archipelagos with more than 400 islands, active shoals or peacock giants can be some of the highlights of the trip. Fishing with artificial baits, fly or bottom fishing with natural baits we have been doing excellent fishing for a long time. Tucunarés Açu, Paca, Butterfly and Popoca will be part of your fishing, you can also find Traíras, Jacundás, Aruanãs, Matrinxãs, Bicudas and Piranhas. For deep-sea fishing enthusiasts, Pirararas can easily be caught.
4. Rio Amazonas – Amazonas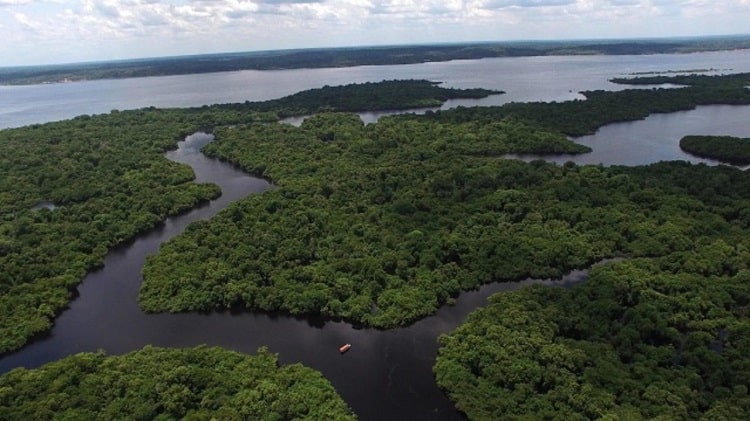 The Amazon River is the largest river in the world and home to the spectacular Giant Peacock Bass. The Amazon River receives several names and several tributaries in its course in Peru, until it receives the name of Solimões, in the border of Brazil, in the municipality of Tabatinga, in the state of Amazonas, where it follows its course until finding the Negro River, near the city. from Manaus, where it receives the name of Amazon River.
5. Cáceres – Pantanal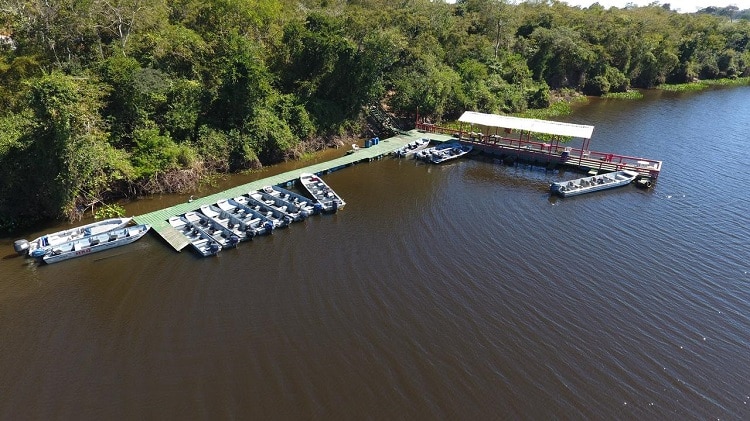 Cáceres is the paradise of Dourados and Pintados. According to the Map, 45 of the 141 municipalities of Mato Grosso provide conditions for the practice of sport fishing tourism, especially Cáceres, which should hold the International Fishing Festival.
The municipality alone has 3,600 vessels registered in the Brazilian Navy, as well as 16 hotel boats and six inns specifically aimed at sport fishing. Cáceres is also the municipality that generates the most jobs with sport fishing in Mato Grosso, with 2.5 thousand direct and indirect jobs.
6. Rio Xingu – Mato Grosso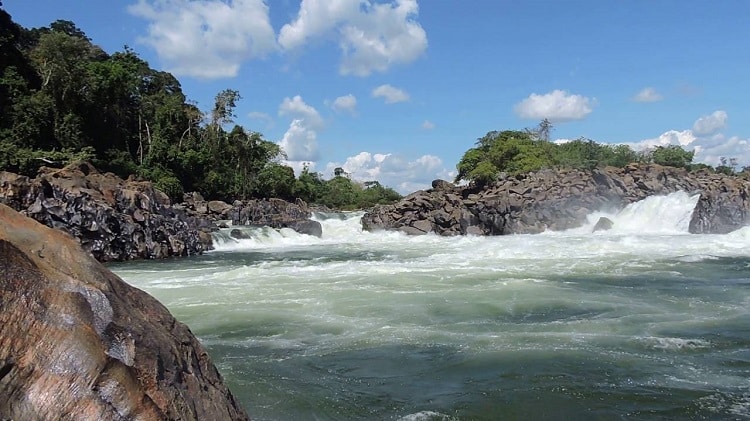 In the immensity of the Xingu River, with its countless arms, canals and lagoons, fish is the most abundant in the region, and the most striking feature of the Xingu River fishery is the incredible abundance of species.
In this incredible river it is possible to capture Tucunarés, Barbados, Traíras, Pirararas, Piranhas, Pintados, Piraíbas, Jaús, Cachorras, Corvinas, among other species. In this destination it is possible to catch fish up to 10 pounds easily.
7. Rio Araguaia e Rio Tocantins – Tocantins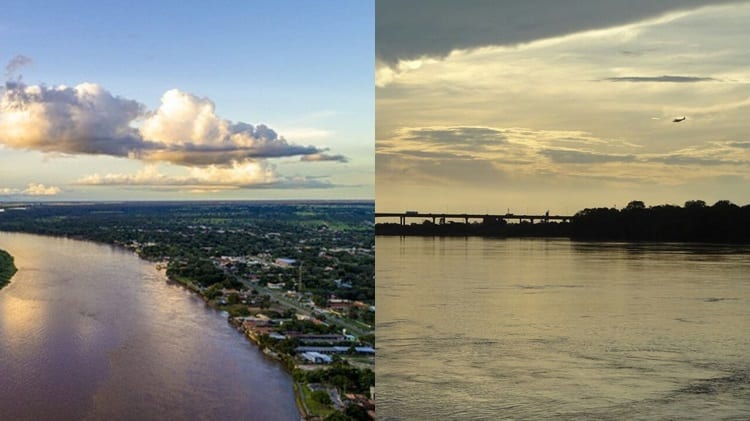 The Araguaia River, between Aruanã and Luiz Alves, annually receives about 18,000 amateur fishermen. The main species caught by amateur fishing are pacu-caranha, matrinxã, pirarucu, piau-gordas, piau-flamengo, pacu-butter, pacu-silver, sardines, corvina, traíra among the fish of scale.
The Tocantins and Araguaia rivers are quite different. The Tocantins River is a channeled type with a narrow floodplain. It rises from the Brazilian shield and flows north for about 2,500km until it flows into the Amazon estuary (Marajó Bay), near Belém.
The Araguaia River rises in the foothills of the Serra dos Caiapós and flows almost parallel to the Tocantins for about 2,115km. Despite being a plain river, it has four stretches of waterfalls and rapids. In the plain stretches are Bananal Island (the largest river island in the world) and numerous marginal lagoons. During the flood season, the Araguaia River and its main tributaries, Rio das Mortes and Cristalino, form a huge flooded plain.
About 300 species of fish have already been identified in the basin. Some are typical of the central Amazon, although dominant species in that region, such as tambaqui, do not occur in Araguaia-Tocantins. In the upper course there are some non-Amazonian species, of which the shark (Salminus hilarii) is the best known example.
8. Litoral Baiano – Pesca em Alto Mar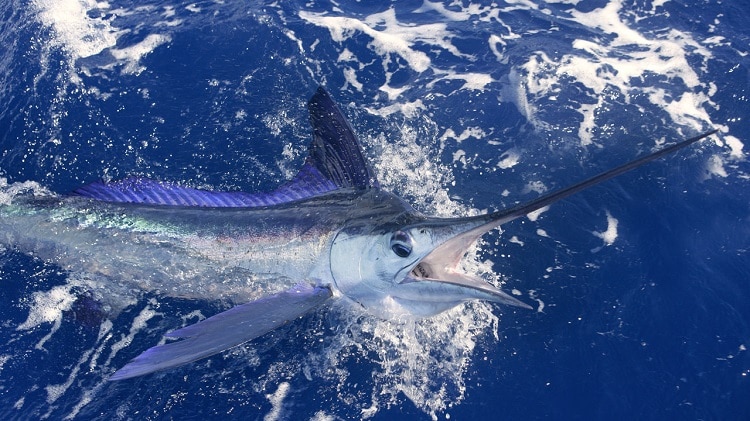 With the longest coastline in Brazil, Bahia is a great destination for sport fishing. There are over 1180 km of warm water beaches. A great advantage of the Bahia coast is the already advanced tourist structure offered to visitors. They have hotels and resorts to suit every budget and taste. Some hotels even offer packages that include sea fishing. The most common fish in the state are hake, snails and sea bass. It is also possible to capture, with a little luck, the famous Blue Marlin.
9. Rio Uruguai – Rio Grande do Sul / Santa Catarina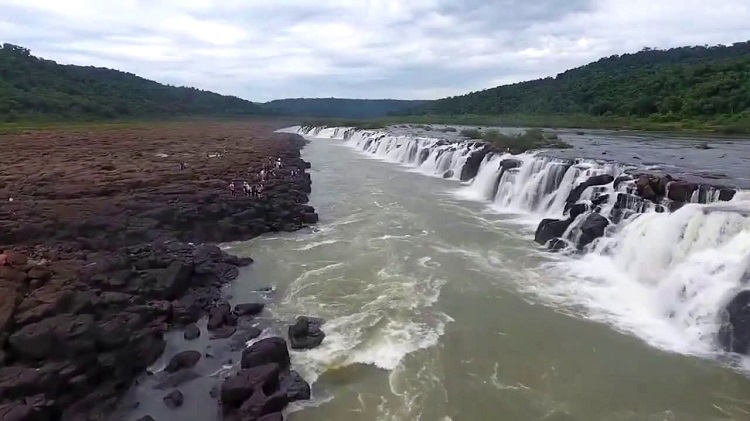 The Uruguay River offers, in addition to its natural beauty, various options for nautical leisure, fishing and various events. On its shore the ports are waiting for you. The region is provided by a road infrastructure with good restaurants and excellent hotels. This is the region of the Uruguay River Tourist Route.
In the Uruguay River it is possible to capture spectacular Dourados, Jundiás, Carpas, Traíras and Piavas. Certainly a destination that cannot be left out of your fishing route.
10. Rio Grande – São Paulo / Minas Gerais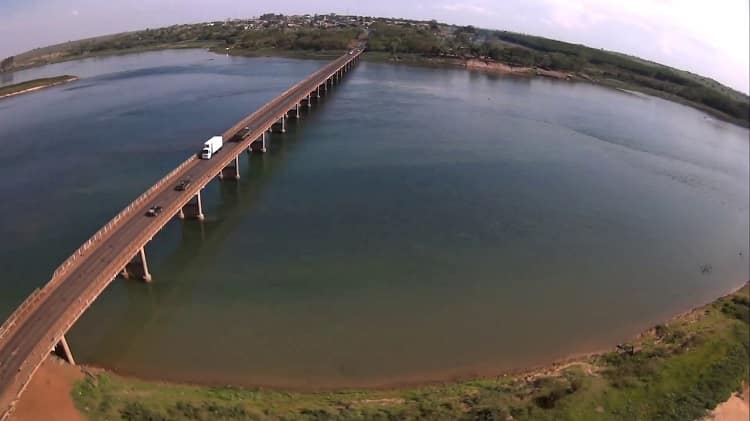 The Grande River is a watercourse that bathes the states of Minas Gerais and São Paulo, Brazil, being one of the formators of the Paraná River. It is considered a plateau river, its source is located in the Alto do Mirantão in the Serra da Mantiqueira in Bocaina de Minas, at an altitude of 1,980 m and runs 1,360 km until finding the Paranaíba River in the municipality of Carneirinho in Minas Gerais, forming the river. Paraná. From the municipalities of Claraval and Ibiraci, the river forms the natural boundary of the state of Minas Gerais with São Paulo.
The most sought after species by lovers of a good fishing are the Tucunaré and Dourado; fish that give a lot of emotion to the practice of sport fishing. In addition to the fantastic Tucunaré and Dourado, fishermen find plenty of others; Corvina, Carp, Traíra, Carp, Painted, Tilapia among others. This diversity makes this river one of the most sought after fishing destinations in the country.
Conclusão
Regardless of the fishing destinations you like best, this post aims to share with you, fisherman friend, a little about the fishing map in Brazil. We hope this material pleased you.
Did you like our post with the 10 most fantastic fishing destinations in Brazil? You have a favorite destination and it is not in our post? Then leave your opinion in the comments. Enjoy and follow Pescaria S/A no Facebook and stay up to date on our content. Thank you for visiting the Blog Pescaria S/A. Good Fishing!